Welcome to
WestieMed, Inc.
Welcome to the WestieMed website, where helping rescued Westies in need of medical attention is our Mission. WestieMed, Inc., is an all-volunteer, IRS-recognized 501(c)(3) non-profit corporation created to distribute financial aid to injured or ill rescued Westies in foster care or within six months of adoption. Our EIN is 52-2243620.
All projects and activities of WestieMed, including this website, are funded by charitable contributions. Only with your contributions can we continue to help injured or ill Westies, giving them a second chance at adoption and love from a permanent family. Donations to WestieMed are tax-deductible to the extent allowed by law, so please give as generously as you can.
Our deepest appreciation goes out to all who have given so generously toward the health and welfare of rescued West Highland White Terriers.
The WestieMed Board of Directors takes pride in its ability to carefully protect the generous donations of our supporters.
---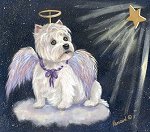 Paws and Remember

Please take a moment to "Paws and Remember" our special four-legged friends.
If you would like to join WestieMed as we "Paws and Remember", please follow this link to learn how you can make a donation and light an "ever-burning" Virtual Candle for your special friend.
---
---